DataSunrise Data & Database Security
Data-Centric high-performance database security software.
Regulatory Compliance with SOX, HIPAA, GDPR, PCI DSS and other privacy laws and standards.
Hybrid and Multi-Cloud Database Security Proxy on AWS, Azure, Google and On-Prem.
Sensitive and PII data auditing, discovery and active protection.
Homogeneous Security Experience in Heterogeneous Environments
Data Auditing enables real-time tracking of user actions and changes made to data and databases to ensure compliance-ready environment, increased visibility…
Database Firewall, role based & location aware Data Access Control & Protection. Secure corporate databases in cloud & on-prem against hostile, negligent actions…
Secures sensitive data in development and testing environments; Encryption; completely eliminates the possibility to reverse engineer the masked data or …
Real-time role and location based data masking of production data. Prevents exposure of sensitive privacy data while production data is not changed physically…
Scan and detect sensitive confidential data in databases in cloud and on-prem, real-time discovery & classification, auto-discovery the relationships between tables…
Manage and administrate the regulations and automate the compliances such as GDPR, HIPAA, SOX, PCI… Prevent internal threats and minimize data breaches
Multifunctionality of DataSunrise Database Security Suite consists in featuring wide spectrum of security appliance functionalities to ensure reliable protection of data housed within your enterprise database.
Activity and access control with strict separation of duties, application user translation and protection against SQL injections are multiplied by instant alerts warning of suspicious traffic and user behavior, as well as reporting on security policy violation for timely prevention of illegal access, targeted attempts or data leaks.
Customizable traffic filtering of database objects allows creating a granular security and masking policies, and enable the regulatory compliance functionality in accordance with data privacy and protection regulations to eliminate risks associated with storing sensitive information.
Best practices such as multi-factor authentication (MFA), single sign-on (SSO),
Vulnerability Assessment
, and privileged access management to administer DataSunrise.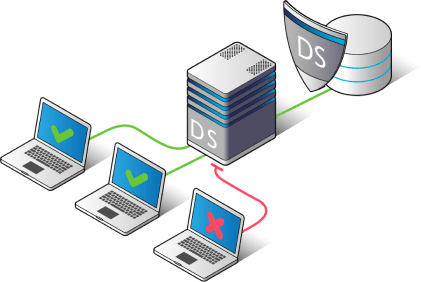 SUPPORTED DATABASES: SQL and NoSQL, In Cloud and On-Premises