Database Activity Monitoring (DAM) Solution by DataSunrise
DataSunrise Database Activity Monitoring enables real-time tracking of user actions and changes made to databases to ensure compliance-ready environment and increased visibility into activity across multiple data silos. DataSunrise is able to audit not only database user activity but also application users when applications (such as SAP, Salesforce, Siebel, Workday or others) are connected to the database with a single database user. The comprehensive interface and flexible rules make it easy to define monitoring policies for separate database objects.
DataSunrise is standardizing the Data Auditing and Database Activity Monitoring across all SQL or NoSQL databases. DataSunrise gives users the same database security experience in heterogeneous database environments.
INCREASED VISIBILITY INTO DATABASE ACTIVITY
DataSunrise Activity Monitoring does:
Collects extensive information on activity of database users and client applications
Utilizes self-learning algorithms to create a white list of queries acceptable in the given database environment
Exports audit results to external SIEM systems with Syslog messages
Helps to achieve compliance with government regulations and industry standards
Our Database Activity Monitoring Features:
Real-time alerting about suspicious activity
Configure alerting via Email and instant messengers to send immediate notifications to administrator or security officer.
Advanced logging
DataSunrise captures SQL queries, statements, and parameters (for parameterized queries). You get a detailed picture of user activity.
SIEM integration
DataSunrise supports Syslog. This enables seamless integration with Security Information and Event management (SIEM) solutions.
Integration with a SIEM provides visual reports and in-depth analysis of user behavior.
CREATING COMPLIANCE REPORTS FOR GOVERNMENT AND INDUSTRY REGULATORS
DataSunrise helps to achieve and maintain compliance with data security regulations and standards such as SOX, HIPAA, PCI DSS, etc.
Database activity monitoring
Flexibility
Configuring monitoring of user access both to an entire database and to its separate objects only.
Advanced database traffic filters enable to track incoming queries issued by certain users, from certain IP addresses and the ones which include certain SQL statements.

Real-time notifications on suspicious activity
DataSunrise enables to send notifications to database administrators and security officers via Email and various instant messengers
Stealth monitoring
DataSunrise can be configured to receive database traffic copy from a SPAN port of a network switch to perform non-intrusive auditing. Passive Mode Auditing through a SPAN port produces no impact on database performance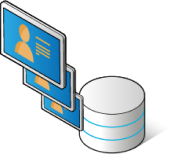 Learning Mode
DataSunrise automatically collects information about users, applications, common queries and objects such as tables and columns and creates a white list of acceptable queries.
SUPPORTED DATABASES: SQL and NoSQL, In Cloud and On-Premises